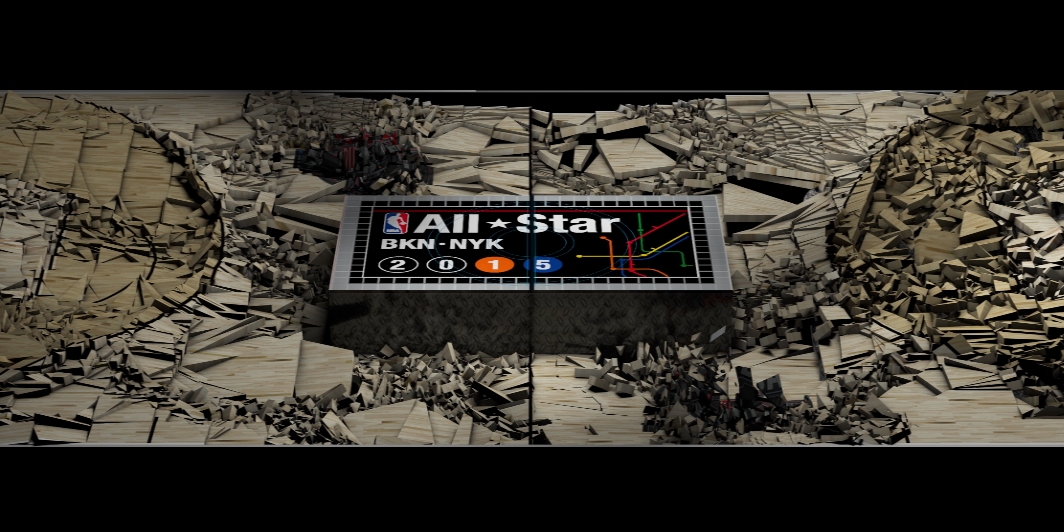 Multimédia
NBA All-Star Weekend - Demo
NBA All-Star Saturday Night - Skills Competition
The 2015 NBA All-Star Weekend is stepping up the entertainment factor this year with immersive motion graphics produced by Moment Factory for "State Farm All-Star Saturday Night" in collaboration with televised live event producers Done + Dusted and lighting designer Baz Halpin, Production Designer Tamlyn Wright of Silent House.
Moment Factory's primary objective was amping up the experience at the Barclays Center, as well as for viewers at home. Video animations, sound and animated LED lights in the crowd serve to add drama and celebration throughout the event. The graphics also communicate key stats before the challenges, using inspiration from the New York Subway maps and signage. As the evening progresses through four events, the audience is entertained by ripple light effects in the crowd, produced in partnership with Montreal-based wireless LED experts PixMob.
The highlight of the night is undoubtedly the slam-dunk contest. As players enter the court for the Slam Dunk competition, the audience experiences realistic 3D destructions of the court, accompanied by grandiose music. The visuals present each player in dramatic fashion, ramping up the hype until their moment of glory.
Troublemakers had the mandate to design all the SFX that accompanied Moment Factory's animations or Pix Mod LED sequences.

photo credit: Moment Factory